Biodegradable Dinnerware / Tableware
Currently the vast majority of the foodware we use is made from non-recyclable or non-degradable materials. Our biodegradable foodware introduces a great, viable, environmentally friendly green alternative to currently used materials.
We manufacture a large range of reusable biodegradable foodware from our biodegradable composite, and also supply PLA corn starch biodegradable products for items requiring a disposible nature.
We offer stock manufactured items as well as ODM custom designed products with rebranding.
Click the links below to see more information about our different types of foodwares available, or contact us via our contact form for more information.
Biodegradable Packaging Solutions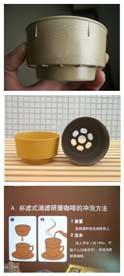 Our material and process has a very wide range of applications and different uses. We have developed products with a range of client in order to satisfy the strong demand for biodegradable, compostable, natural, environmentally friendly packaging.
OEM projects have include product packaging, Food packaging (Coffee cup and removable filter pictured below), inner trays of boxes, among other items
Our material offers a good environmentally friendly alternative to moulded plastic product packaging and plastic trays. Also it can serve as a good replacement to pulp packaging, provide extra rigidity and better longevity.
We welcome enquiries from parties wishing to explore the possibilities in using our material/technology in custom manufacturing biodegradable packaging for their products